Sense of Security recently presented at the GovInnovate 2016 Summit in Canberra on Wednesday 16 November 2016.
In this workshop Davis Pulikottil and Murray Goldschmidt from Sense of Security presented a workshop on some of the latest innovations in managing and identifying vulnerabilities in the enterprise. They also discussed how effective incident response planning can improve readiness for responding to incidents when they occur. This non-technical workshop was presented to eGovernment and digital transformation specialists.
Some of the insights provided in this workshop were:
An overview of the changing threat and cybersecurity landscape
The latest automated scanning techniques and tactics
Managing vulnerabilities in a Cloud and DevOps environments
Effective incident response and assessing your levels of readiness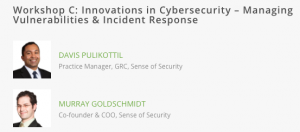 We would like to thank the many delegates who attended our workshop and provided wonderful feedback. We would also like to thank the organisers, Hannover Fairs, for recognising the leadership that Sense of Security has understanding Cybersecurity, Incident Response and Vulnerability Management.