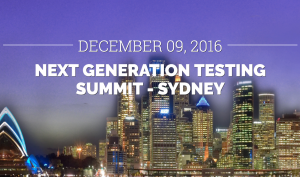 On Friday, 9 December 2016, the Next Generation Testing Summit 2016 will be happening in Sydney. Sense of Security's COO, Murray Goldschmidt will be presenting his highly regarded talk on DevSecOps – A How To For Agility with Security.
The summit will also include technical sessions featuring interactive presentations exploring the depth and breadth of agile development and test automation. Located in Sydney, it is expected the summit will be a key meeting place for test professionals and executives from leading IT organisations.
The Sense of Security team would like to thank the organisers of this summit for recognising the leaders in the domain of DevSecOps, and the need to embed security deep into agile workflows and processes. We're looking forward to an inspiring day of talks and workshops from other professional speakers.
Traditional security teams are being marginalised by fast moving development practices. Inserting the 'Sec' into 'DevOps' requires re-thinking our approaches, and uncovering the best techniques for applying security without it hampering efficient development processes. In Murray's presentation he covers the reasons why this issue is becoming increasingly important to so many enterprises, and how automating testing and using the latest vulnerability management tactics can make a real difference.
More information about the Next Generation Testing Summit 2016 can be found online. It will be held at the Novotel Sydney Central on 9 December 2016.