ASD Essential Eight – Mitigation Strategies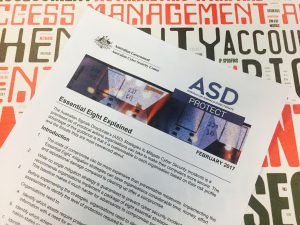 The ASD Essential Eight is a set of proven mitigation strategies designed to reduce cyber risk across the board for many enterprises, and is useful for establishing a baseline level of security.
The Australian Signals Directorate produces it. As a result, this signals intelligence agency within the Australian Government Department of Defence.
Developed from real-world data collected from the ASD's role of protecting Australian Government agencies, the ASD Essential Eight builds on previous work from the Australian Government, including the highly-regarded ASD Top 4 and awareness campaigns such as Catch, Patch and Match.
While the mitigation strategies were developed around protecting government agencies – make no mistake: the ASD Essential Eight is just as valid and appropriate for all private sector enterprises too.
Advocating an evidence based approach to cyber resilience, the ASD claims their Essential Eight can save organisations considerable time, money, effort and reputation damage, particularly when compared to the costs of cleaning up after a compromise. Hence, prevention is always more cost-effective.
Mitigation of 85% of common attacks will occur, if the ASD Essential Eight strategies are implemented correctly.
What is the ASD Essential Eight?
The Essential Eight isn't just your normal to-do list of security tasks. Above all, it sets about a high-level theme of cyber resilience with two main areas of concern:
Preventing malware from running in your environment; and
Limiting the extent of security incidents, and being able to recover data.
The ASD provide a clear explanation of "Why" each of the eight items is important. As a result this provides a great advantage for understanding the implications and benefits you can expect.
To Prevent Malware Running
1. Application Whitelisting – only allowing selected software applications to run on computers. Why? Providing prevention of all other software applications, including malware.
2. Patch Applications – patching security vulnerabilities in software applications; keeping them up to date. Why? Adversaries use well known exploits in vulnerable software to target computers.
3. Disable Untrusted Microsoft Office Macros – Microsoft Office "macros" which can automate tasks should be disabled. Why?Macros are well known for being used to download malware.
4. User Application Hardening – Various items, such as blocking browser access to Adobe Flash player, web ads and Java applets. Why? Flash, Java and Web ads have been implicated in delivering malware.
To Limit Incidents & Recover Data
5. Restrict Administrative Privileges – use only admin privileges for managing systems, and only for those who need them. Why? These are your 'keys to the kingdom', protect them at all cost.
6. Patching Operating Systems – keep your operating systems up to date and fully patched for vulnerabilities. Why? Adversaries are known to target vulnerable systems.
7. Multi-Factor Authentication – use strong authentication with an additional "factor", such as a physical tokens or 'something you have' Why? It becomes a lot harder for adversaries to compromise accounts, even if the password is breached.
8. Daily Backup of Important Data – regularly backup all data and store it securely offline. Why? So you can get back the data if you suffer a cyber security incident (such as ransomware).
Why Choose Sense of Security?
Above all, security is our core business – it's all we do. We have over 15 years of extensive knowledge of the technical, commercial, and regulatory aspects of IT security.
Simplicity of the ASD Essential Eight is deceptive. As a result, it is great for getting much needed management buy-in. Therefore, implementing and executing a plan to achieve all eight items should be done in conjunction with the right experts, to get the best results.
The ASD Essential Eight provides your enterprise will benefit from evidence based actions that deliver tangible results in a relatively short period of time.
Furthermore, Sense of Security looks forward to developing a long-lasting working relationship with you as the maturity of your enterprise improves over time.
Above all, take that first step, and contact us at any time for a no-obligation discussion on how we may be able to assist your organisation today.