Cyber Security Incident Response
New data breaches are hitting the news headlines every day, and once your Enterprise's footprint grows to becomes significant attacks are inevitable and unavoidable. Meanwhile, Enterprises that have a mature approach to Incident Response are getting on with business, and thriving.
Protecting the Enterprise has traditionally meant investing all your resources protecting the network and its assets; assuming you can avoid the worst. We all know this is no longer a valid approach.
Despite the best technology and the biggest budgets, unexpected situations still arise. Now more than ever, Response has become just as important as Protection and Detection.
Effective Incident Response can make all the difference to the outcome of a serious cybersecurity incident.
Calmly and with Control – that's the sort of response our clients expect to be able to achieve with our assistance.
We provide the expertise, the materials, and the knowledge – putting your Enterprise in the fast-lane to responding confidently and capably in the face of chaos.
Preparation is the secret, and lot's of it. Scenario planning and understanding your business objectives are at the top of our methodology which involves critical thinking of the highest order.
"Incident Response needs people, because successful Incident Response requires thinking." – Bruce Schneier, Schneier on Security
How Ready Are You?
The Sense of Security approach is to first understand all we can about your Enterprise and your industry. Then we methodically inspect and assess the levels of Incident Response Readiness from different viewpoints.
Some of our more mature clients only need general guidance to set them on the right path, while others need a plan built from scratch – including an Incident Response Plan, Roadmaps, and Playbooks.
An Incident Response Readiness Assessment (IRRA) will provide you and your stakeholders with a clear picture of current capabilities. Importantly, it will identify improvements and provide a roadmap of prioritised objectives.
An Incident Response Readiness Assessment (IRRA) is delivered in stages to cater for all levels of maturity.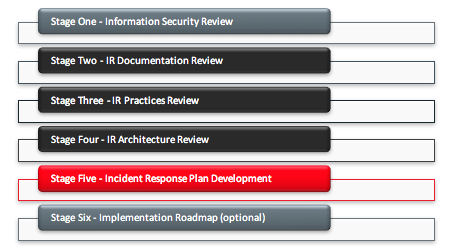 Our consulting engagements incorporate best industry practices from recognised standards, in combination with extensive experience gained by our consultants from performing prior assignments.